Inside the Dragon Lair (Dragon Crypto Gaming)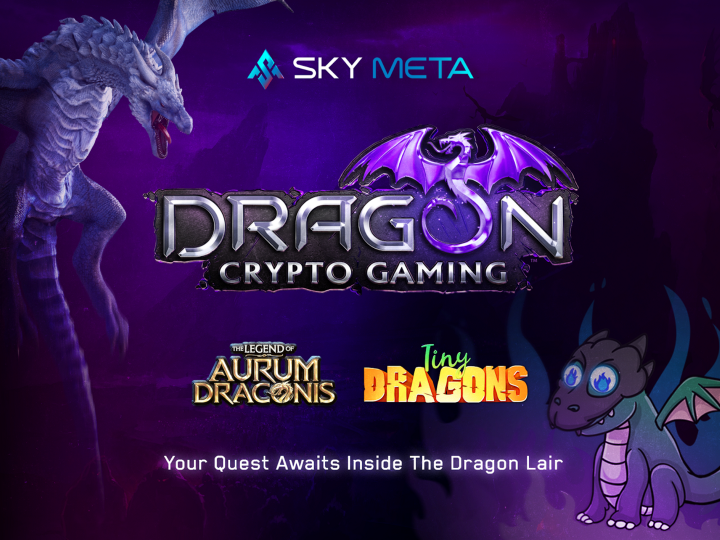 Dragon Crypto Gaming is one of the forefronts of the play-to-earn revolution. Starting in August of 2021, Dragon Crypto Gaming has come a long way since then and is now in the 3rd phase of development. Their team consists of dedicated game and fantasy enthusiasts who are committed to making a superior fantasy-themed metaverse. Dragon Crypto Gaming is on a mission of providing its community with a groundbreaking gaming experience while fostering the benefits of a play-to-earn ecosystem in the form of in-game incentives. The Dragon Crypto Gaming universe consists of two exciting games, namely, The Legend of Aurum Draconis and Tiny Dragons.
The Legend of Aurum Draconis
The Legend of Aurum Draconis is an old-school RPG game that is set in the fantasy world of Dragon Haven. Dragon Haven was the fabled breeding ground of dragons and existed long before humans set foot on the land. The land was fought over many times between humankind and dragons. The dragons eventually retreated to a distant land where they could be free and safe to nest. Aurum Draconis, the leader of the dragons, made an oath to himself that the dragons will reclaim the land that was once theirs.
The land of Dragon Haven is vast and full of adventure. There are the Vast and Dangerous Plains just outside the town of Dragon Haven where great heroes were made, the Mysterious Deep Forest where a plethora of surprises awaits you, the Mines where you can gather resources beyond the danger, and the Deadlands where only the bravest of the brave set foot.
HEROES
To roam and explore the adventurous world of Dragon Haven, you need to have a hero. A Hero NFT features 100% original artwork and can be sold and bought for $DCAU. There will also be a limited number of Hero NFTs released in batches to be recruited at the Inn. These heroes have five ranks: Neophyte, Apprentice, Master, Grandmaster, and Legendary. The level will increase the number of starting points one gets to spend on their hero stats.
Each hero has various skills and attributes that are best suited for different adventures. A player can recruit more than one hero to make a team. On a quest, the player can switch heroes depending on what skills and attributes are best for the task. Heroes gain levels while adventuring. As they level up, stats points are given to the player to be used to further enhance the Heroes' abilities, value, and chances of winning.
There are two series of heroes already minted: Genesis and Corruption. Each of the series will have surprise in-game perks.Be on lookout for the next one!
QUESTS
In the vast land of Dragon Haven, there are countless quests that await you. These quests will challenge the player's heroes' and will get the chance of earning some items and rewards that will help them in their future adventures.
RESOURCES AND CRAFTING
During the player's journey in The Legend of Aurum Draconis, each adventure gets tougher and tougher along the way. There are resources they can gather and even craft their own equipment that may aid them in their future adventures. Materials can be bought and sold in the in-game marketplace. Crafting items will cost players some $DCAR.
The Legend of Aurum Draconis is the first installment of DCG's play-to-earn RPG series. The game will constantly evolve. Adding items, equipment, quests, gameplay, and added storylines will further enhance the gameplay and will take the gaming experience to the next level. Are you ready to take on the adventure?
Check out the Aurum Draconis Lore Trailer:
and the Aurum Draconis Gameplay Trailer:
Tiny Dragons
Released in October of 2021, Tiny Dragons is DCG's inaugural series of utility NFTs. There are a total of 1000 Tiny Dragons minted and all of them are sold out. Fortunately, secondary sales are available on the NFTrade NFT marketplace. Go check them out if you want to see some adorable Tiny Dragons, click here.
ARENA
Tiny Dragons owners can level up their dragons and even make them compete in a battle via their Tiny Dragons Arena minigame. By doing so, they can win some attractive prizes and help them to buff up their beast.
When engaged in a battle, 4–16 dragons face off in 5 leveled leagues. The system will calculate the attacks and defenses of the dragons and will decide on the winner.
There is also a leaderboard where the top 3 players for every season will be rewarded via USD stablecoin.
In the arena, each Tiny Dragon will be ranked. The ranks will attribute to an add-on level. Base stats will have an add-on of 0, ranks 400–600 will have an add-on of 1, ranks 200–400 will have an add-on of 2, ranks 50–200 will have an add-on of 3, and ranks 0–50 will have an add-on of 4.
FIRE LOTTERY
If you're feeling lucky, users of Tiny Dragons can participate in their Fire Lottery where users can potentially win crypto (in the form of $USDT and $AVAX) and rare NFTs.
There is a lot more to expect from Tiny Dragons in the following months. Tiny Dragons Arena will soon integrate Partnership Battles where NFT Partners will soon be able to engage in battle with Tiny Dragons. This will further increase their community engagement and add utility to the NFT series. The Tiny Dragons Lab is one to look out for. Users will be able to splice their Tiny Dragons for rare and valuable dragon DNA, which they can keep or sell in the marketplace. This DNA can also be combined to create a powerful Tiny Dragon. Tiny Dragons Adventure is another one to look out for. Users will be able to send their Tiny Dragons on an adventure to find Dragon DNA, resources, and loot that they can use when playing Tiny Dragons or The Legends of Aurum Draconis.

Final Thoughts
Dragon Crypto Gaming has given us The Legend of Aurum Draconis and Tiny Dragons, which are two games that will take us to the fantasy world of Dragons. With much excitement in the gameplays and the NFTs, these two games will give gamers a smile on their faces. Adventures and excitement are what the DCG universe offers its players. With The Legend of Aurum Draconis is still in its infancy stage, it is a game that we look forward to seeing its development and gameplay. Tiny Dragons have proven to be a game that hooks players. Future updates and further additions to its gameplay are the things to look out for.
TOKENOMICS
$DCAU (Dragon Crypto Aurum)
$DCAU is the DCG's governance token. $DCAU holders will be able to vote on various proposals. It also has an in-game utility in The Legends of Aurum Draconis via minting Hero NFTs and transactions in the Hero NFT marketplace. Healer's Hut and Resting at an Inn will also be paid in $DCAU. This token will also be used in Tiny Dragons because the game has an entry fee that will be paid in $DCAU. The $DCAU token has a max supply of 155,000 and it was reached in December of last year and 1000 $DCAU has already been burned.
DISTRIBUTION
Liquidity & Partnerships — 3.0% — 4,650 $DCAU
Gaming Rewards — 10.0% — 15,500 $DCAU
DREGG Swap — 32.0% — 49,600 $DCAU
Farming Rewards — 55.0% — 85,250 $DCAU
TOTAL — 100% — 155,000 $DCAU
$DCAR (Dragon Crypto Argenti)
$DCAR is an in-game token that is used to purchase crafting materials and craft items in The Legend of Aurum Draconis. Tiny Dragons also uses this secondary token in leagues that require $DCAU as an entry fee and will also require users to have $DCAR to breed. Users can stake the $DCAR to earn a share of the platform's revenues in the form of $DCAU and $DCAR rewards. Within 3 years, only 40,000,000 $DCAR will be emitted from the token generation event (TGE) and will become deflationary through in-game burning mechanisms.
DISTRIBUTION
Liquidity 7.00% 2,800,000.00
Public Round 3.91% 1,562,746.33
Private Round 5.67% 2,269,324.00
Seeding Round 19.73% 7,890,909.10
Team 15.00% 6,000,000.00
Ecosystem fund 16.69% 6677020.576
Advisors 2.00% 800,000.00
Bonding & Staking Rewards 10.00% 4,000,000.00
Game Rewards 15.00% 6,000,000.00
Reserves 5.00% 2,000,000.00
TOTAL 100.00% 40,000,000.00
For more information about Dragon Crypto Gaming, check out their Website, Discord, and Twitter.
To learn more about Sky Meta, visit our Website. For updates, join our Discord and Telegram and follow our Twitter.